COVID-19 INFORMATION
The City of Meriden and the Meriden Department of Health and Human Services thank you for visiting our COVID-19 webpage. This page contains the latest information and guidance for Meriden residents. We will work to provide you updates specific to Meriden as quickly as possible. For questions regarding COVID-19 please contact the Department of Health and Human Services at 203-630-4226.
About COVID-19
COVID-19 is a disease caused by a virus called SARS-CoV-2. Most people with COVID-19 have mild symptoms, but some people can become severely ill. Although most people with COVID-19 get better within weeks of illness, some people experience post-COVID conditions. Post-COVID conditions are a wide range of new, returning, or ongoing health problems people can experience more than four weeks after first being infected with the virus that causes COVID-19. Older people and those who have certain underlying medical conditions are more likely to get severely ill from COVID-19. Vaccines against COVID-19 are safe and effective.
Meriden COVID-19 Reports
Each Friday, the Department of Health and Human Services issues a report on COVID-19 cases, vaccination rates, and other data for our city. Below are the 2 most recent reports:
Testing
COVID-19 tests are available that can test for current infection or past infection.
A viral test tells you if you have a current infection. Two types of viral tests can be used: nucleic acid amplification tests (NAATs) and antigen tests.
An antibody test (also known as a serology test) might tell you if you had a past infection. Antibody tests should not be used to diagnose a current infection.
In partnership with the Connecticut Department of Public Health (DPH), the City of Meriden will be hosting Wren Laboratories to provide community COVID-19 testing FREE of charge for anyone 5 years and older. They will be using a saliva-based PCR test. Click Here for more details.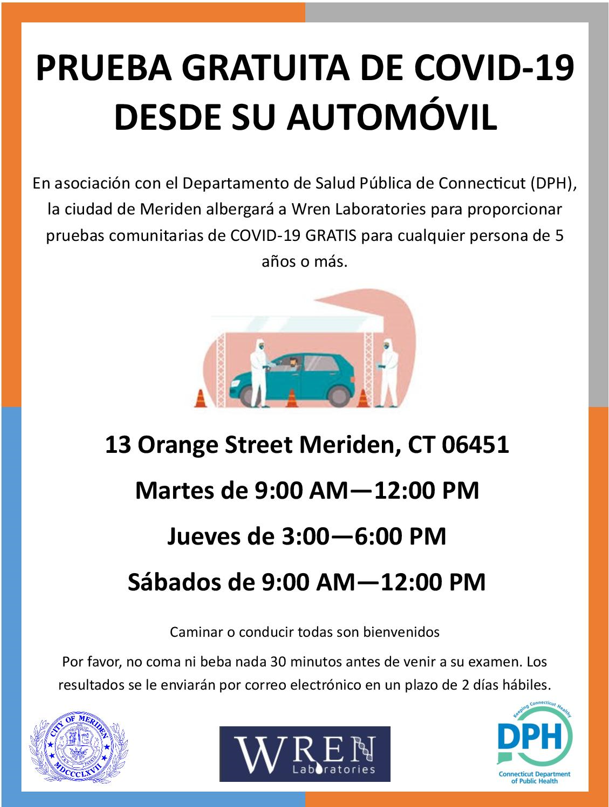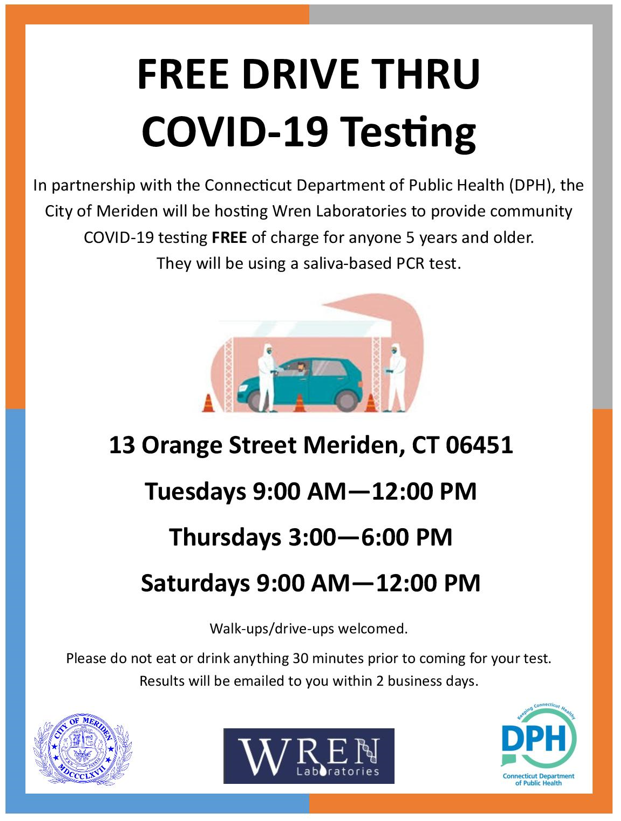 Who should get tested for current infection:
Unvaccinated, partially vaccinated, and fully vaccinated people should be tested 5 to 7 days following a known exposure to someone with suspected or confirmed COVID-19 and wear a mask in public indoor settings for 14 days or until they receive a negative test result.
People who have tested positive for COVID-19 within the past 3 months and recovered do not need to get tested following an exposure as long as they do not develop new symptoms.
CDC recommends that anyone with any signs or symptoms of COVID-19 get tested, regardless of vaccination status or prior infection. If you get tested because you have symptoms or were potentially exposed to the virus, you should stay away from others pending test results and follow the advice of your health care provider or a public health professional.
Click here for a list of testing locations in Connecticut. You can search by zip code.
State Supported Testing Sites- Click Here
Clarification for COVID-19 testing at State Supported Testing Sites: Persons being tested for COVID-19 at State Supported Testing Sites will be asked for their insurance information but there will be no out-of-pocket expenses. Additionally, if their insurance does not pay, the individual will not be billed.
**Note: If individuals do not have insurance, they will be tested and not billed at any of these State Supported Testing Sites.**
Contact Tracing
The Department of Health and Human Services continues case investigation and contact tracing 7 days per week, excluding holidays. The Department employs 3 part-time contact tracers; the Public Health Educator, Associate Director of Health and Director of Health also make calls when needed. On weekends and holidays, a state contact tracer may also make calls. Our goal is to reach out to Meriden residents diagnosed with COVID-19 within 24 hours of the case appearing in ContaCT, the state contact tracing computer system. During the interview, you will be asked how you are feeling and when you may have been exposed to COVID-19. We will also ask you about people you were in close contact with, but we will keep your information protected. We will not reveal your name to any contacts you identify.
Please answer our call! If you are contacted by a contact tracer, it's important to:
Answer the call,
Participate in the interview, and
Take their advice seriously.
For questions about contact tracing, please call 203-630-4288.
Contact Tracer Video (Click Here)
Announcements and Updates
Below are the latest updates for the City of Meriden:
November 19, 2021: Face masks that cover the nose and mouth are required to be worn in city buildings if you are unvaccinated. We thank you for your cooperation!
Plan on traveling soon? Review the state of Connecticut travel guidelines here. We also recommend you check with your destination points to see if they have any guidelines or restrictions.
Useful Websites
Looking for more COVID-19 information? Here are some website to consider. Before you consider vaccine information on the Internet, always check that the information comes from a credible source and is updated on a regular basis.
Centers for Disease Control and Prevention (CDC)
U.S Food and Drug Administration (FDA)
World Health Organization (WHO)