Command Staff
Chief of Police Roberto Rosado

Meriden native Roberto Rosado began his career as a Police Officer in Willimantic, Connecticut in January of 1998. After commencing his career as a Patrol Officer, Rosado was assigned to community policing and was later promoted to Detective where he served the Detective Bureau for six years.
As Detective, Rosado was instrumental with investigating major crimes and assisted in several high profile investigations with the FBI, DEA, ATF and State Police Major Crimes. Rosado was promoted to Patrol Sergeant and worked as a first line supervisor on a Patrol Shift and was influential in molding the young officers who are presently supervisors.
After his role as Patrol Sergeant, Rosado returned to his investigative roots as Detective Lieutenant responsible for the Detective Bureau, Detectives and all felony crime. In August of 2016, Rosado was selected as Chief of Police for the Willimantic Police Department. As Chief, Rosado was able to achieve organizational excellence, crime reduction, improvement on the solvability rate, and develop accredited community policing programs. Under his leadership, the department and the town of Willimantic received awards and recognition for both community policing efforts and reducing crime statistics.
Chief Rosado completed his Associate's Degree in General Studies from Naugatuck Valley Community College, his Bachelor's Degree in Sociology with a minor in criminology from Eastern Connecticut State University and his Master's Degree in Criminal Justice with a focus in Management from the University of New Haven. In 2015, Rosado graduated from the F.B.I. National Academy and has obtained numerous awards and accolades for his investigations in cases and several State Citations.
Chief Rosado is currently a member of the Connecticut Chiefs of Police, the International Association of Chiefs of Police, and the Lions Club. Chief Roberto Rosado can be reached at the Meriden Police Department at 203-630-6300.
Deputy Chief Nicholas D. Sherwood - Professional Standards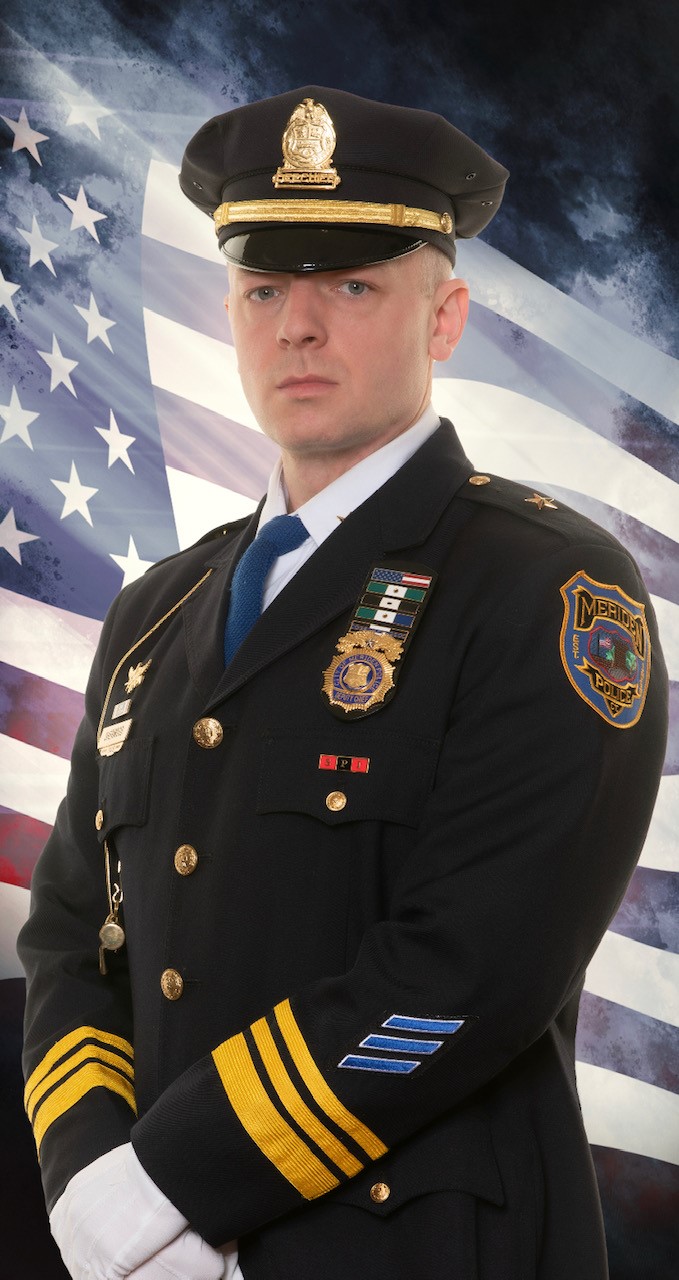 Deputy Chief of Police, Nicholas Sherwood, began his service in the policing profession in March of 2003 when he joined the Hartford Police Department. While with the Hartford Police Department, he served as a patrol officer, as a member of the agency's Disorder Control Team, and as a Field Training Officer.

In August 2006, Deputy Chief Sherwood transferred to the Meriden Police Department where he has served the agency in a number of capacities, including but not limited to, Patrol Officer, Field Training Officer, Police Instructor (in numerous different specialties), a SWAT Team Operator, Patrol Supervisor, Professional Development Unit Supervisor, Community Police Unit Commander, the Support Services Division Commander, and currently serves as the Deputy Chief of Police of all Administrative Services for the agency.
Deputy Chief Sherwood holds an Associate's Degree in Criminal Justice from Middlesex Community College, and a Bachelor's Degree in Management from Post University with a focus in Leadership. He is actively pursuing a Master's Degree in Public Administration from Albertus Magnus College. In 2017, Deputy Chief Sherwood successfully completed the Southern Police Institute's 79th Command Officers Development Course (CODC), a specialized course focused on teaching communication skills, management techniques, and leadership philosophies. In May 2020, Deputy Chief Sherwood graduated from the Southern Police Institute's 143rd Administrative Officers Course (AOC), a Police Executive Leadership Graduate Program where he served as the class president.

Deputy Chief Sherwood is a proud veteran of the United States Air Force and the Connecticut Air National Guard, having served as a Security Forces specialist and non-commissioned officer.
Should you like to schedule an appointment to meet or speak with Deputy Chief Sherwood, he can be reached at the following contact information:
office phone: 203-630-6216 and email: nsherwood@meridenct.gov
Deputy Chief Jeremiah Scully - Field Operations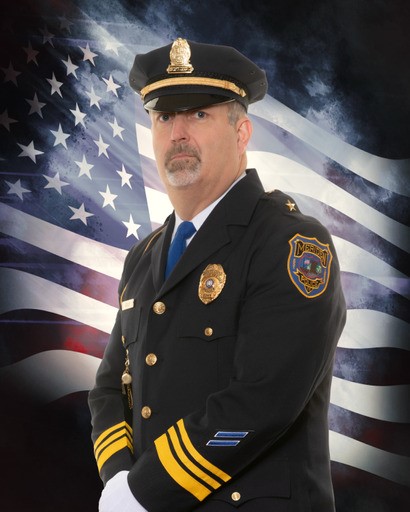 Deputy Chief, Jeremiah "Jerry" Scully began his law enforcement career in 1988 as a part time police officer with the Thomaston (CT) Police Dept. In 1990 he went to work for the Torrington (CT) Police Dept. In 1991, Deputy Chief Scully transferred to the Naugatuck (CT) Police Department where he was assigned to the Patrol Division as a patrol officer. In Naugatuck, he held the ranks of Field Training Officer, Patrol Sergeant, Patrol Lieutenant and retired in 2012 with the rank of Captain. As Captain, he assumed command of the agency in the absence of the Chief. He managed the Patrol Division, Communications Center, Animal Control, and Crossing Guard Program. As Accreditation Manager, he updated their policy and procedure manual and successfully led efforts to attain Tier III Accreditation from the State of Connecticut Police Officer Standards and Training Council.
In 2012, he retired from Naugatuck and accepted a position with the Meriden Police Department. He was assigned to the Patrol Division as a patrol officer and began serving as a member of the Honor Guard. In 2015, he was assigned to the Training Division as the department's Training Officer. In 2016, he was placed in charge of this division. He developed and managed the unit's annual budget, was responsible for maintaining police certification, NCIC certification and scheduling in-service and external training. He updated and managed the recruitment and retention portions of the hiring process. He was also the Field Training Coordinator responsible for administering the state-mandated program for new recruits.
Deputy Chief Scully received an Associate's Degree in Criminal Justice from Naugatuck Valley Community College and received a Bachelor's Degree in Public Safety Administration from Charter Oak State College. He is also a graduate of the FBI National Academy (224th Training Session) in Quantico, VA., and the New England Institute of Law Enforcement Management (217thTraining Session) in Wellesley, MA.
He is an active member of the FBI National Academy and the FBI National Academy CT chapter. Deputy Chief Scully has received numerous departmental awards over his career.
Captain John Mennone- Support Services Division
Captain John Mennone has served in Law Enforcement since May 8th, 2000, when he joined the Meriden Police Department. Since joining the Meriden Police Department he has served the agency in several capacities, including: patrol officer, field training officer, police instructor. SWAT Operator, SWAT Team Leader, SWAT Commander, DEA Task Force Officer, Patrol Sergeant, Neighborhood Initiative Supervisor, Sergeant Internal Affairs and Lieutenant in charge of Internal Affairs.
Captain Mennone now commands the Administrative and Support Services Division, which is responsible for overseeing the Vehicle Fleet, Records Unit, Parking Commission, Court Liaison Office, Grant Management Program, Scheduling Office, and the Professional Development Unit.
Captain Mennone serves as the department Body Worn Camera Administrator, which consists of maintaining and overseeing compliance in all Body Camera retention.
Captain Mennone serves as our Use of Force Expert and is a certified instructor in all Use of Force facets. Captain Mennone has recently received training with FBI LEEDA and has received the FBI LEEDA TRILOGY Leadership Award.
Captain Mennone is a recent graduate of the University of Louisville, Southern Police Institutes 143rd Administrative Officers Course
Captain Mennone will be continuing his education with Post University, where he is enrolled in the Homeland Security and Emergency Management Program.
Captain Glenn Milslagle- Patrol Operations Division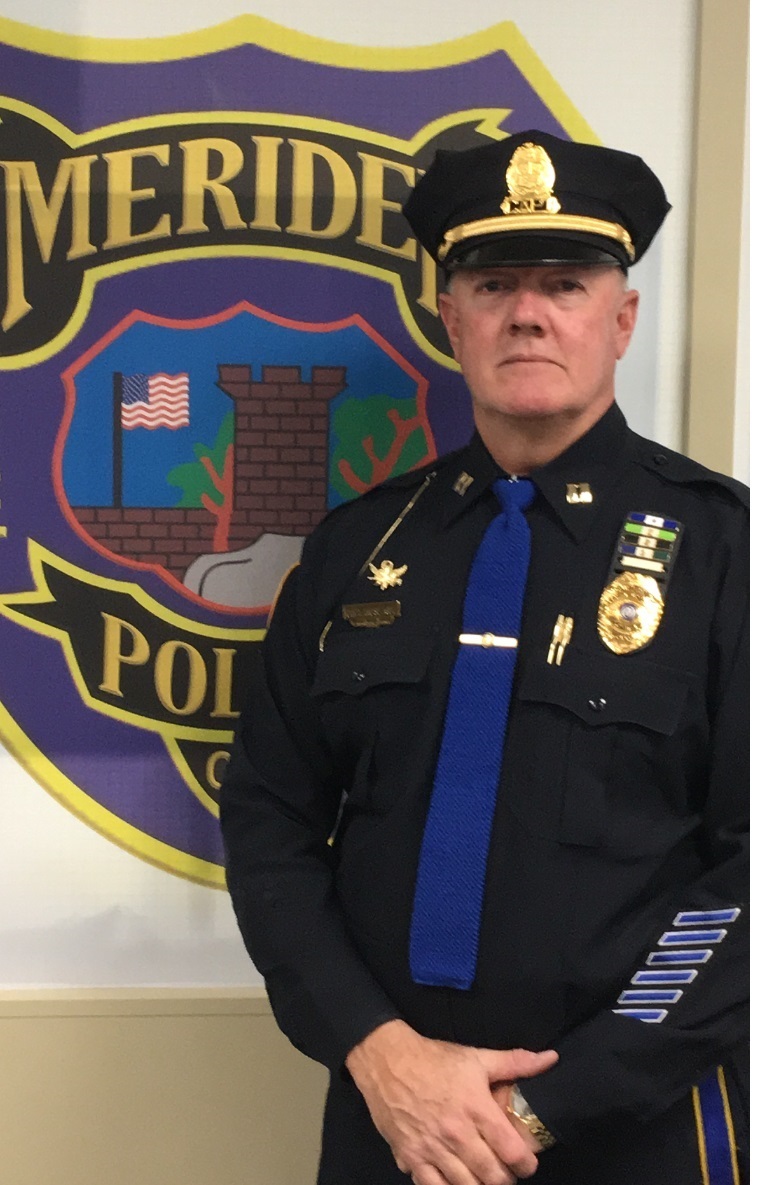 Captain Glenn Milslagle is the Commander of Police Operations. This Division has responsibilities for Patrol, Neighborhood Initiative and School Resource Officers, Animal Control, Traffic Unit, Traffic Investigation, SWAT and Hostage Negotiations. This Division encompasses the aspects of law enforcement that are most visible to the public. Police Operations is responsible for providing rapid response to emergencies, comprehensive initial investigation on all criminal matters, community service and assistance to the general public, and traffic safety. This is the largest Division in the Meriden Police Department with over 100 sworn and non-sworn employees.
Captain Milslagle began his service with the Meriden Police Department in 1990. While assigned to the Patrol Division, Captain Milslagle served in the Community Police Unit, was an Accident Reconstructionist on the Accident Investigation Unit, served over ten years as an Operator on the Special Weapons and Tactics Team as well as a Field Training Officer. Following his promotion to Sergeant, Captain Milslagle was assigned as an Investigator within the Internal Affairs Unit where he remained until his promotion to Lieutenant in 2012. Captain Milslagle was then assigned to the Patrol Division as Commander of the Third Watch as well as Commander of the Special Weapons and Tactics Team.
Captain Milslagle can be reached by email or by telephone at 203-630-6290.
Detective Lieutenant Shane Phillips- Investigative Services Division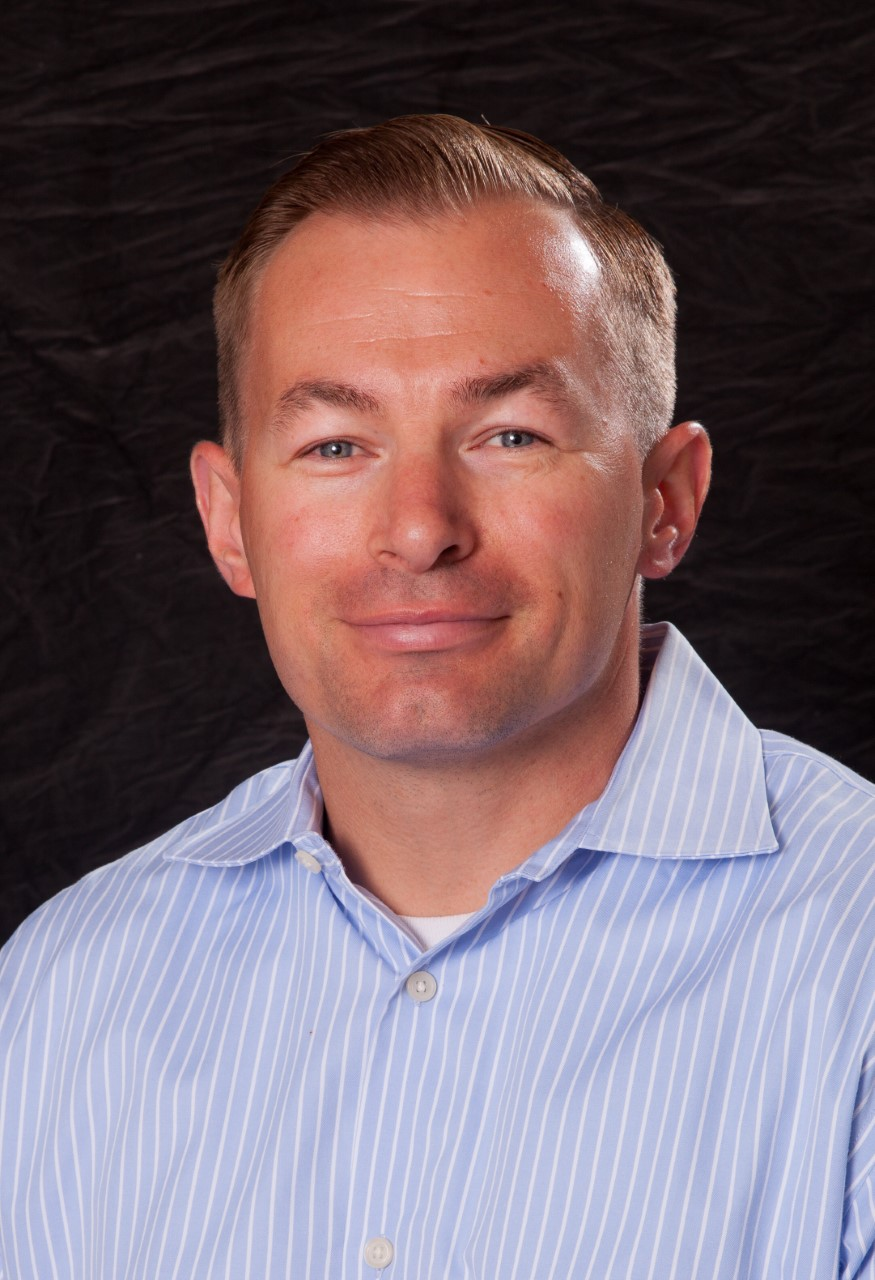 The Detective Division is responsible for the investigation of all serious felony crimes within the City of Meriden. There are four units within the Detective Division: Major Crimes Unit, Special Crimes Unit, Crime Suppression Unit and Evidence/ID Unit. Detective Lieutenant Shane Phillips is a 11-year veteran of the department, beginning his career in the Patrol Division and has held lateral assignments such as a D.A.R.E. officer, S.W.A.T. team operator, Field Training Officer, and is also Crisis Intervention Trained. Shane has worked as a Detective or Detective Sergeant in all four of the units within the Detective Division. As a native of Meriden, it is critically important for Shane to provide exemplary service and make connections with the community that he and his staff serve. On July 22, 2021, Shane was promoted to Detective Lieutenant and assumed command of the Detective Division. Detective Lieutenant Phillips can be reached by email or phone 203-630-6281.