Parks/Park Rentals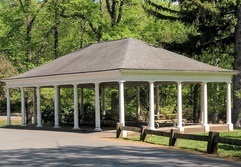 The Parks Division is responsible for the maintenance and improvement of the parks system and its facilities. The division maintains 74 areas, including 24 municipal parks. Parks can be rented out by residents for parties and events. Reservations can be made online no less than 30 days prior to the event.
The Parks division, along with the Tree Warden, is responsible for City-owned trees. Tree removal and tree trimmings take place between May 15th and October 15th. Applications for these processes can be obtained at the Liberty Street office.



Meriden has over 3,000 acres of park land. The total percentage of Meriden's land devoted to parks is 17.6%, and no other city in New England can match that percentage!
The Parks Division is located in the Hubbard Park Maintenance Facility, but maintains no real "set" office hours. Office hours are maintained at the Parks & Recreation Department office.