View or Pay Your Taxes Online
The City of Meriden offers residents and businesses the option to pay tax and utility bills online.
When paying taxes with a charge/debit card the taxpayer will incur a convenience fee of 2.95% of the payment amount.

Credit card payments for water/sewer bills are charged a fee of $6.95 for up to $400.

The City of Meriden receives

only

your bill payment amount. Convenience fees are set by the payment processing company and cover various administrative costs associated with accepting payments and are non-refundable.

Use of an electronic check (e-check) will incur a flat fee of 95 cents.

A fee of $20.00 will be charged for any electronic check payment that is returned for any reason. This fee cannot be waived.
The convenience fee amount is automatically calculated and is shown on the payment page before you submit your payment for processing. Convenience fees will appear as a separate charge from the bill amount on your bank or credit card statement.
City of Meriden Tax and Utility Online Payment Portal
Instructions
The link above defaults to tax bills. To view or pay your tax bill enter the required information that appears on the screen.

To pay your Water or Sewer bill click on Water/Sewer/Misc located in the blue bar.

Enter your Unique ID which is the six (6) digit "Bill #" located on your quarterly bill.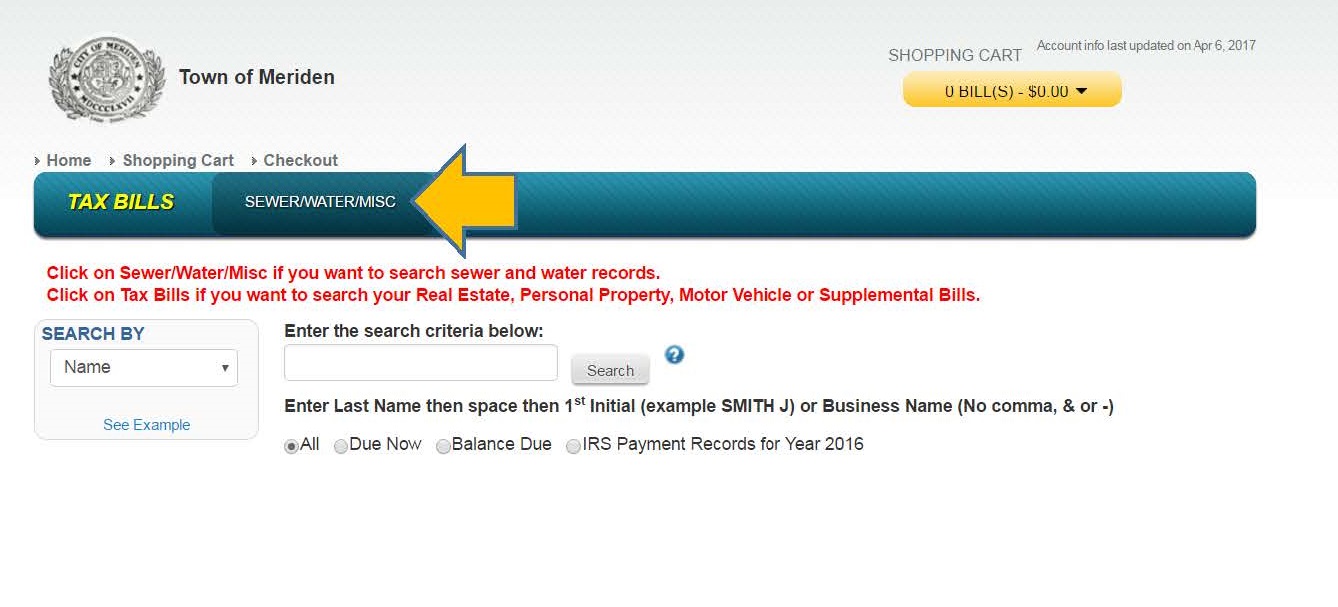 .

Click "Search" and a listing of your bills will appear.

Click on the box on the right of the bill you wish to pay. Once you have selected the bill(s) for payment click on the yellow box under "Shopping Cart" in the top right corner of the page and click "Checkout".
Please read the terms and conditions prior to completing the payment process.