Recreation Programs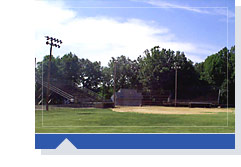 The Recreation Division is committed to providing quality recreational activities and celebrating cultural and seasonal events for the enjoyment of the people of Meriden. For more information about upcoming recreation events, please contact the Parks & Recreation staff at 203-630-4259.

---
Public Swim Schedule at Maloney High School:
Pool passes are required and can be obtained at the Parks and Recreation office on Liberty St.
Tuesday & Thursday 6:30-8:00 pm

Saturday & Sunday Noon-3:00 pm
---
Recreation Services sponsors a number of City leagues and recreational teams through subsidies, promotions, and use of facilities:

South Meriden Youth League

Ed Walsh Little League

Jack Barry Little League

Meriden Girls Softball League

Meriden Soccer Club

Meriden Junior Football

Meriden Boys & Girls Club Cuno Basketball League

Meriden Boys & Girls Club Volleyball

American Legion Baseball

Meriden Amateur Softball Association

Meriden Silver Fins

Meriden Intermediate League

Meriden Youth Travel Baseball

Meriden Youth Wrestling

Connecticut Hurricanes Softball
---
Programs offered by Recreational Services:
Program
Location

Date

Outdoor Swim Program
Hubbard Park

2018 Dates Coming Soon

Daily from 12 noon to 6:45pm

Indoor Swim Program

Maloney High School

10/03/2017 - 05/24/2018
Tuesday & Thursday 6:30 - 8 pm
Saturday & Sunday Noon - 3 pm

Summer Playground Program

Sites include:
Thomas Hooker School
John Barry School
Habershon Park
Baldwin Park

06/25/2018 - 08/03/2018
Monday - Friday
8:30 am - 3:00 pm

Summer Fun Runs
Platt High School Track

2018 Dates Coming Soon
Every Wednesday at 6:30 pm

Summer Water Park
City Park

2018 Dates Coming Soon
Monday - Friday Noon - 4:00 pm
Sunday 1:00 pm - 5:00 pm

Silver Lights Display
Hubbard Park
City Hall
Broad Street Monuments

Tues. Before Thanksgiving

January 2, 2018

Annual cultural and special events sponsored by Recreation Services include:

Month
Events
Location
January

Tradition Run


Hubbard Park
March
St. Patrick's Day Parade


East -West Main Streets


April

Meriden Rotary Club 5K Road Race & Kids' Fun Run
Meriden Little League Opening Day
Easter Egg Hunt


Daffodil Festival




Hubbard Park
City Parks
Meriden Green
Hubbard Park


May


Mayor's Spring Clean-Up
Memorial Day Parade
Meriden Fishing Derby
Meriden Fly-In
Spring Food Truck Festival
Quinnipiac Watershed Clean Up


City-wide
Broad-East Main Streets
Hubbard Park
Meriden-Markham Airport
Hubbard Park
Dossin Beach




June


Hubbard Park Charity Race Series
Watch Fire
Special Day for Special People
Lion's Club Duck Race
Twilight Music Series


Hubbard Park
American Legion
Hubbard Park

Meriden Green

July

4th of July Fireworks
Twilight Music Series


Hubbard Park
Meriden Green

August
National Night Out
Puerto Rican Festival
Twilight Music Series
Hubbard Park
Hubbard Park
Hubbard Park
September
Hubbard Park Charity Race Series
High School Band Competition
Nites in the City



Hubbard Park
Falcon Field
Police-Court Complex



October

Fall Food Truck Festival
Mayor's Fall Cleanup
Hubbard Park Charity Race Series
Trunk - Or -Treat
Halloween Happenings

Hubbard Park
City-wide
Hubbard Park
Meriden Green
Meriden-Markham Airport

November
Veterans Day Ceremony
Maloney/Platt Stoddard Bowl

Broad St. Monuments
Maloney High School


December
Christmas in the Park
Santa Letters
Silver Lights Festival
Christmas in the Village
Hubbard Park

Hubbard Park
South Meriden

Recreation Services is responsible for a number of permits and seasonal passes:

Swim tags - To participate in either the indoor or outdoor swim program, Meriden residents must purchase swim tags. Tags cost $15.00 for adults and $5.00 for children under the age of 17. They are valid for the entire calendar year in which they are purchased. They can be obtained at the Liberty Street office, and must be shown to gain admission to any of the swim program sites.


Fishing Permits - Fishing is permitted in Crescent Lake (Giuffrida Park) by special permit only. Permits cost $5.00 for the season and can be obtained at the Liberty Street office.


Facility Request Forms - Persons wishing to use or reserve a parks facility, field, or piece of equipment must complete a facility request form at the Liberty Street office. This privilege is for Meriden residents only, and fees may apply depending on the nature of the request.