Emergency Communications
Emergency Communications
Mission Statement
The mission of the City of Meriden Department of Emergency Communications is to efficiently and compassionately answer the public's call for emergency service response, perform accurate and timely call handling and priority dispatch services for the public we serve, and to support police, fire and EMS responders in accomplishing their mission.
MAY 2023 EMERGENCY COMMUNICATIONS PRIORITY DISPATCH PROJECT
In preparation for the Emergency Communications Priority Dispatch Project, Meriden's Emergency Communications Director, David Boyce, is teaching the public safety dispatchers CPR, AED and obstructed airway procedures using standards set forth by the American Heart Association. ❤️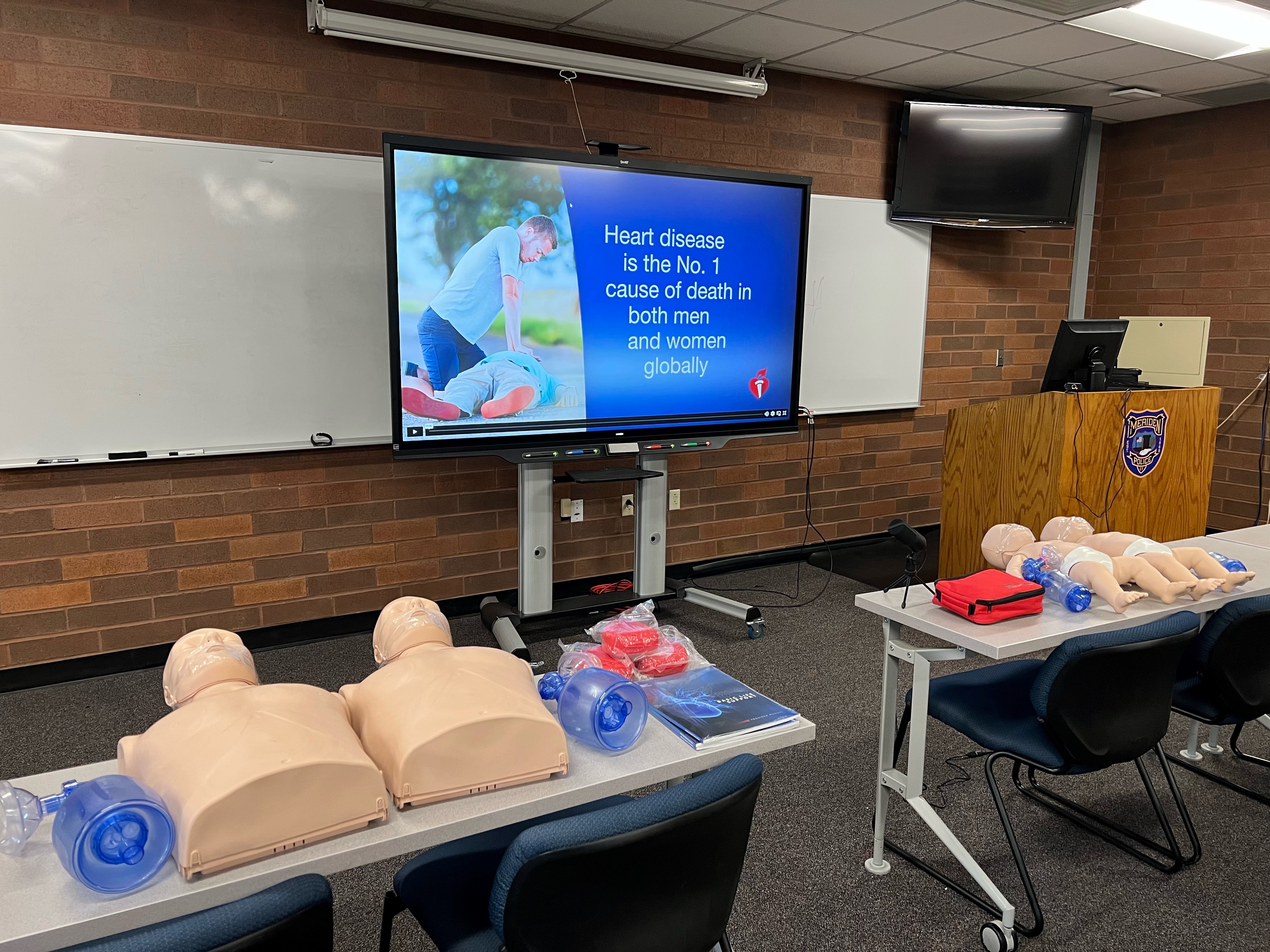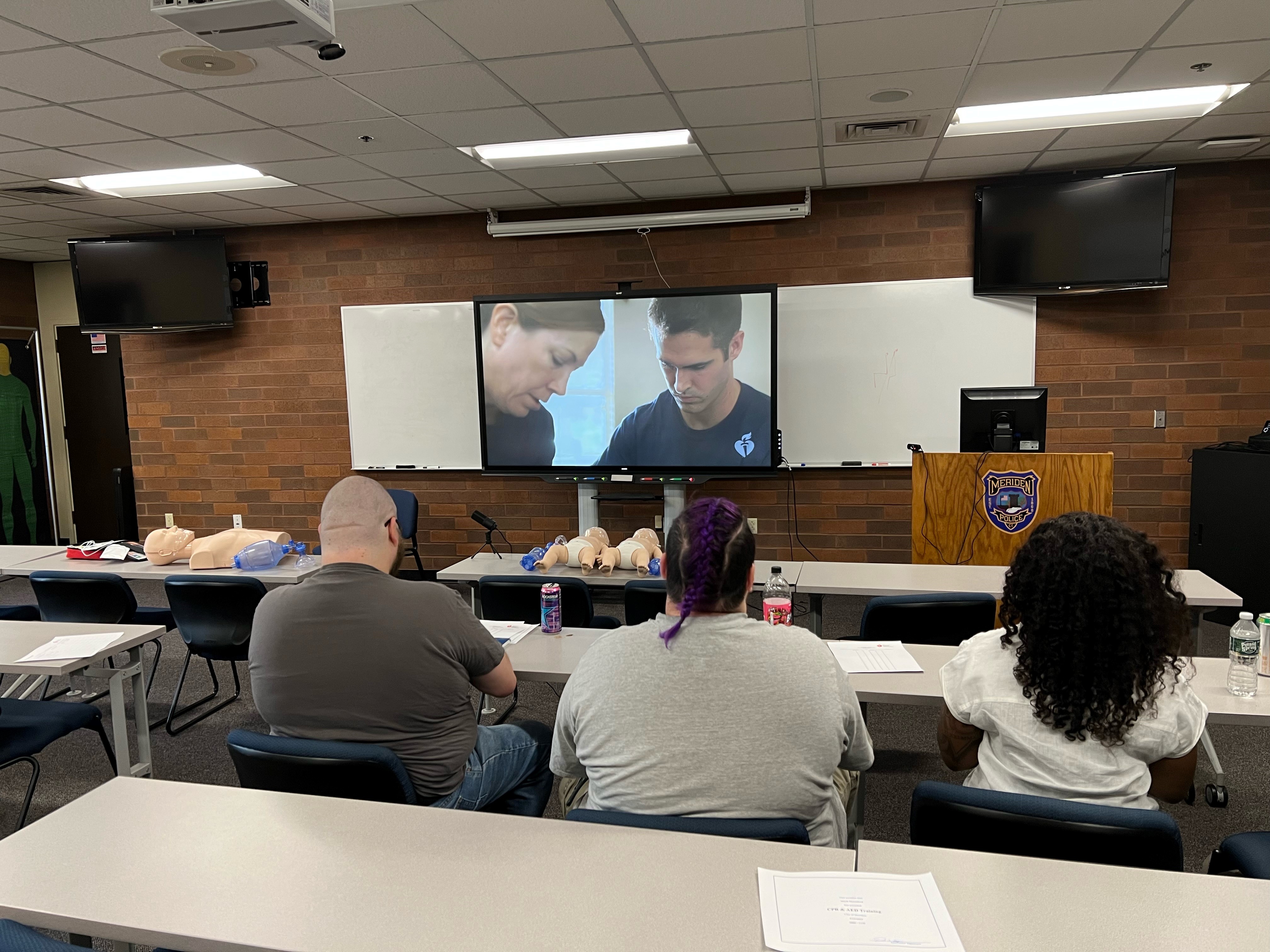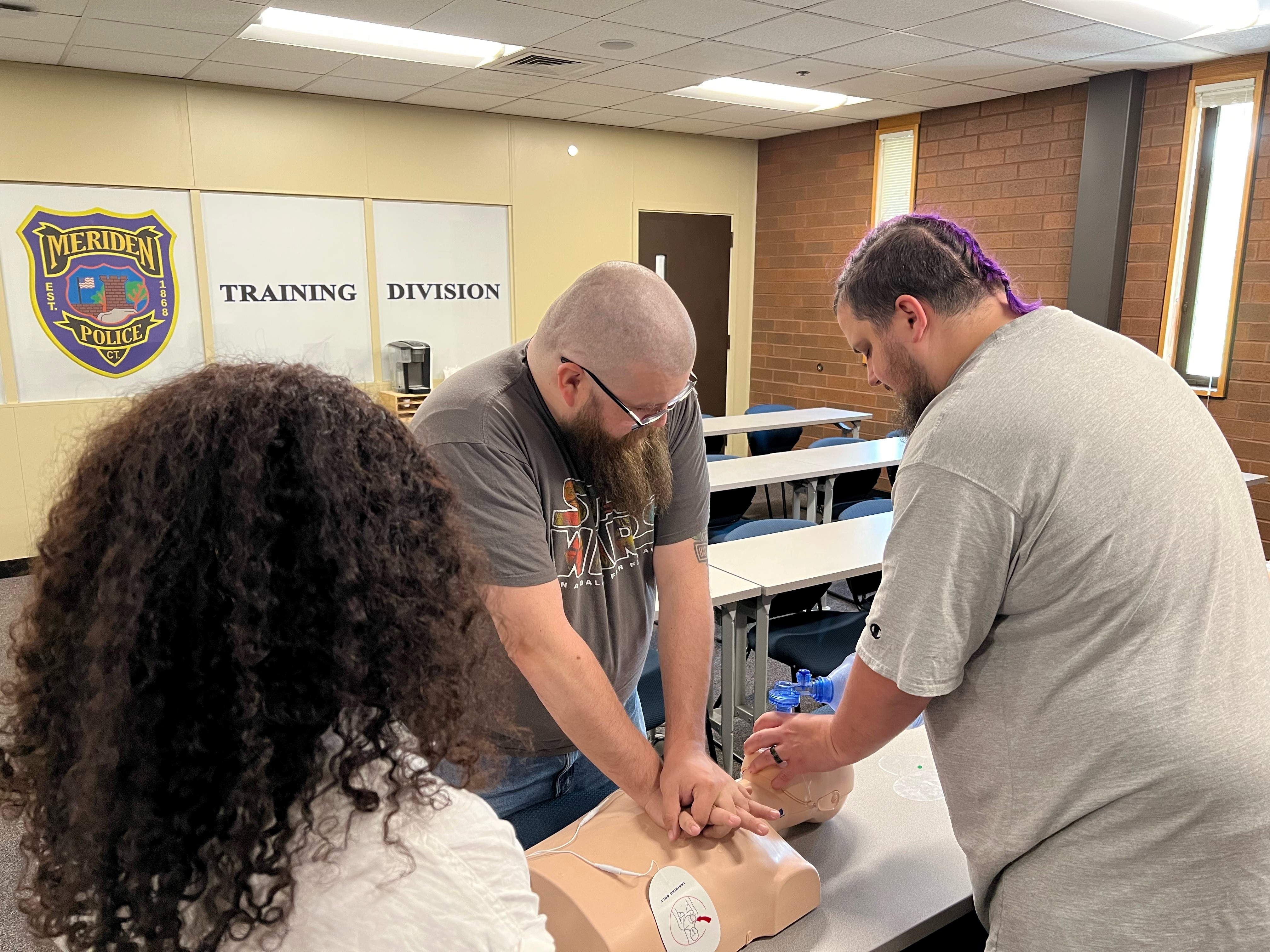 DO YOU WANT TO EXPLORE BECOMING A DISPATCHER?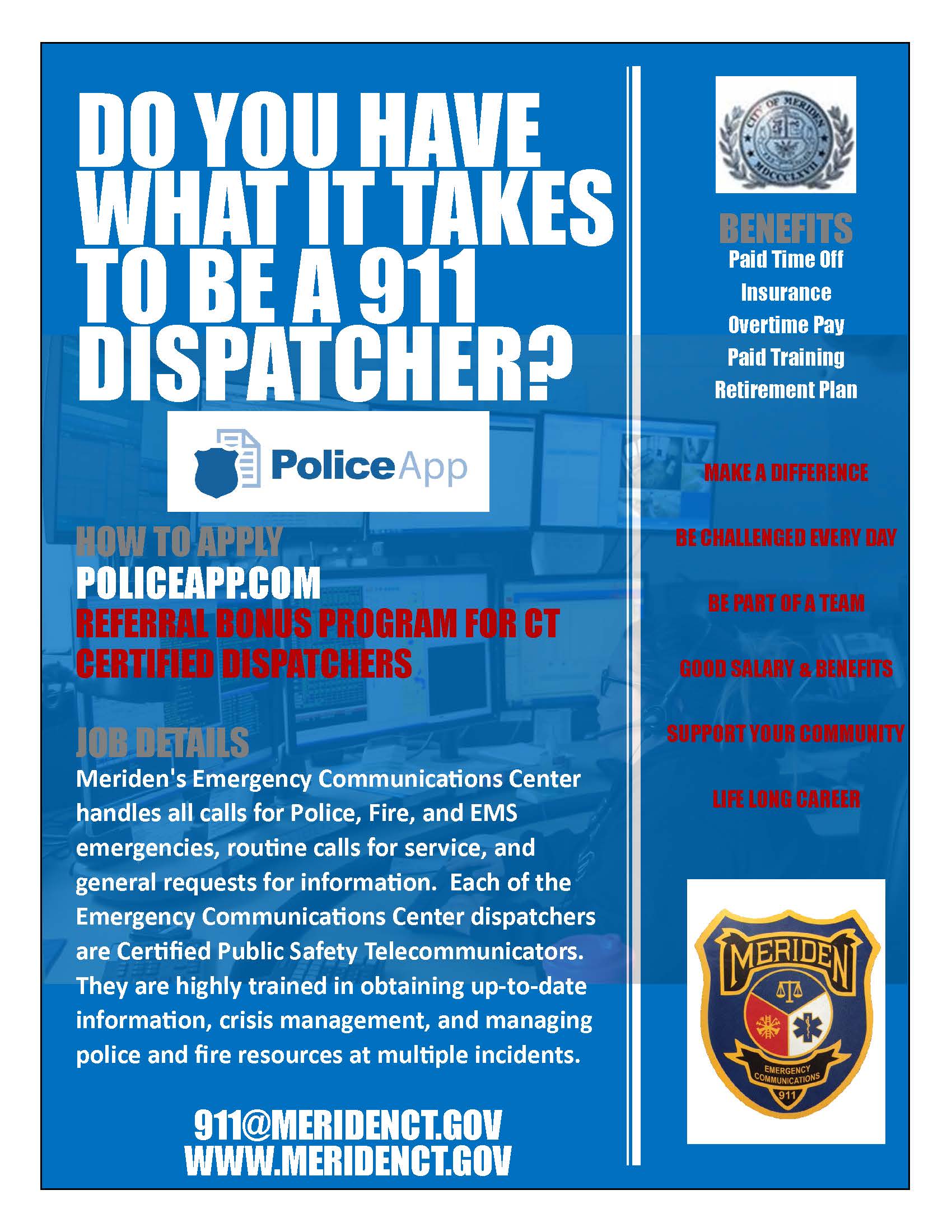 Meriden's Emergency Communications Center handles all calls for Police, Fire, and EMS emergencies, calls for service, and general requests for information. The Emergency Communications Center dispatchers are Certified Public Safety Telecommunicators; they are highly trained in obtaining up-to-date information, crisis management, and managing police and fire resources at multiple incidents. There are currently 18 certified NCIC Telecommunicators on staff with 24-hour coverage. Dispatchers will collect vital information regarding each call and set a prioritized response if needed.
The Meriden Emergency Communications Center is the primary PSAP (Public Safety Answering Point) for the City of Meriden. The Center processes 61,000 calls for service each year, receives 25,000, 911 calls per year and 111,000 administrative calls per year. The dispatchers are required to perform various functions including but not limited to: performing law enforcement database checks, processing EMS calls, monitoring of field assets at emergency scenes like structure fires, in progress incidents, monitoring weather conditions, and play an active is ascertaining information for all critical incidents to ensure first responder safety.
When calling 911 it is very important to answer ALL of their questions regarding the location you are calling from, the location of the incident (which can be different), the phone number you can be reached at, your name, and the incident you are calling about. This will ensure they are sending the help to the correct place. It's important to remember that while the dispatcher is speaking with the caller, they are sending the police, fire and or EMS to your location to assist you with your emergency.

Callers should use 911 for urgent potential life-threatening EMERGENCY and for potential IMMEDIATE damage to property.


When should you call 911?
When there is an emergency, lives are in danger, serious injury, serious medical conditions, crimes in progress, or any other situation needed emergency attention. Speak slowly and clearly when you explain what's happening.
The 911 emergency dispatcher may ask you what, where, and who questions such as these:
Where is your emergency?
What is your emergency/what's happening?
Where are you?
Who needs help?
Who is with you?
Are you safe where you are?
What should you do if you see a crime occurring?
Call 911 immediately.
Be observant and make mental notes.
Tell the dispatcher if you "see" any weapons from where you are.
What is the location/address?
Provide any physical characteristics such as weight, height, race, facial hair, scars.
Any clothing description?
How many people involved?
Are the person involved on foot or in a vehicle? If in a vehicle can you provide a description of the vehicle, plate number, direction of travel?
DON'T HANG UP!
If you do have to call 911 in an emergency be sure to stay on the phone. Do not hang up until the 911 dispatcher tells you it's okay to do so. This will ensure the dispatcher has all the information to get you help quickly.
Do I have to give my name when I call 911?
If you wish to remain anonymous or keep your information confidential just tell the dispatcher.
Remember the following:
Stay calm
Speak clearly and slowly
Provide your location
Provide your phone number
Answer all of the dispatcher's questions
Follow directions
Stay on the phone
We can't help you if we can't find you!
If it's not safe to call 911 or you cannot communicate verbally, you can Text-To-911 which is now available in the State of Connecticut.
What if I call 911 by mistake:


Stay on the phone, explain to the dispatcher you called by mistake and answer ALL of their questions.

Callers are advised to consult our phone book for routine calls for other routine police matters or for the numbers to your local fire station as well as numbers to administration for the fire department and the local fire marshal office.
Links:
Text-To-911 – https://www.text911ct.org/
https://portal.ct.gov/DESPP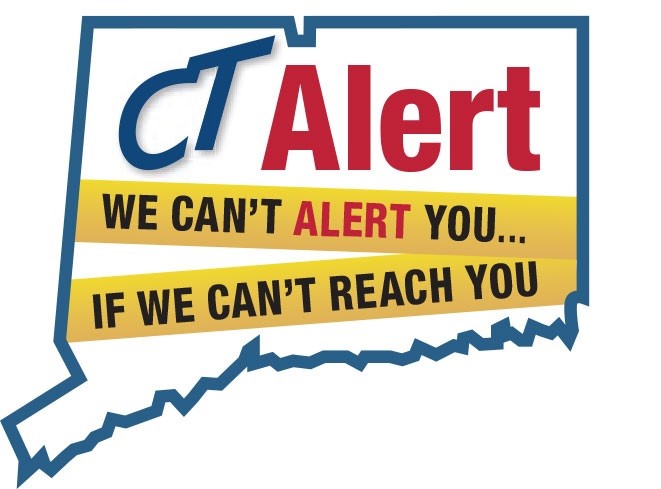 IF YOU SEE SOMETHING SUSPICIOUS, SAY SOMETHING! CALL 911
Professional Links:
National Emergency Number Association - http://www.nena.org/
Association of Public Safety Communications Officials - https://www.apcointl.org/
The Meriden Emergency Communications Center uses https://www.policeapp.com/ to advertise and test for dispatcher vacancies.
911 is for EMERGENCIES ONLY--please use it wisely.

FOR NON-EMERGENCY POLICE MATTERS CALL 203-238-1911
Director of Emergency Communications 203-630-6266
Police routine numbers (listen to the menu for your dept) 203-238-1911
Police officer for report taking incidents after the fact 203-630-6345
Records Department 203-630-6237
Abandon Vehicle complaints 203-630-6201
Detective Supervisor 203-630-6272
Fire Department Administration 203-630-5868
Fire Marshall Office 203-630-4010
Child Seat Information Sgt. Zajac 203-630-6215
Crime Suppression Unit 203-630-6281
Animal Control Officer 203-235-4179