Transit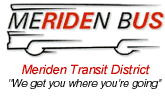 Joshua Broekstra , Chairman
The Meriden Transit District and Parking Commission is committed to providing, promoting and maintaining modern systems of transportation for the citizens of Meriden within the scope of our authority. This shall include, but not be limited to, commuter service, fixed route service and Americans with Disabilities Act service.
The Meriden Transit District and Parking Commission will strive to deliver a quality product in a timely and cost-effective manner that is affordable to the user. We will do so by maintaining high standards of courtesy, professionalism and ethics in dealing with the general public, outside agencies, organizations and governmental entities.
Five local bus routes serve Meriden exclusively. All routes begin and end at the railroad station, where they connect. Signage in the station and on the platform identifies the bus routes and connections to other bus systems. The railroad station is Meriden's Transit Hub.
Route 561 runs from the station to MidState Hospital, to Westfield Mall on the south side of Dick's Sporting Goods, and back down Lewis Avenue to the station.
Route 563 runs from the station along Pratt Street, across Broad Street and through Yale Acres, along North Wall, down Atkins Street to Broad, from Broad Street to Sherman Avenue, then to Warren and Griswold Streets to North Colony Road, then back via Center Street and Camp Street to State Street and to the station. There it becomes Route 564 and proceeds out West Main, Cook, Old Colony Road, Hanover Avenue to Main Street South Meriden, takes a left on Camp, then Baker Street, then right onto Cheshire Road, right onto Main Street once again, then left on Hanover back to the railroad station.
Beginning August 27, 2019, for the buses that leave at 3, 4 and 5 pm, the 564 will stop at Platt High School, as a convenience to students of Middlesex Community College.
Route 565 runs from the station out West Main Street all the way out to Westerly Terrace, which it takes to Castle Drive, back to West Main then back to the Station via Cook and Hanover. It becomes route 566, which proceeds up East Main Street and Liberty street to Pearl Street, where it takes a right to East Main. There it turns left and runs to Paddock Avenue, which it takes to Murdock Avenue, where it turns left on Pomeroy Avenue. The route turns left at Research Parkway, which it follows back to East Main Street. There, it turns left and returns to the station via Pearl and Liberty. Once each weekday morning and each weekday afternoon, coinciding with school hours, the 566 stops at Maloney High School, traveling via Liberty and Gravel.
For schedules and maps, pay an online visit to CTtransit.com/schedules, type in either "Meriden" or the route number for full information.
We also oversee the Hartford/Meriden Express 919 with 3 buses into Hartford in the morning and 3 runs back Meriden in the afternoon. For further information, please see the tab for "Connecting Bus Services."