Transit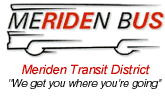 ---
Effective October 30, 2017 - Due to a demolition project on Brooks St. the bus stop has now been moved to the easterly platform of the new train station. The stop is directly across from the old stop and signs have been posted in the area directing bus riders to the new area. Please note this only pertains to bus service, rail service has not yet started at the station.
---
The Meriden Transit District is committed to providing, promoting and maintaining modern systems of transportation for the citizens of Meriden within the scope of our authority. This shall include, but not be limited to, commuter service, fixed route service and Americans with Disabilities Act service.
The Meriden Transit District will strive to deliver a quality product in a timely and cost-effective manner that is affordable to the user. We will do so by maintaining high standards of courtesy, professionalism and ethics in dealing with the general public, outside agencies, organizations and governmental entities.
There are three local bus routes which serve Meriden exclusively, the A, the B and the C routes. All connect at the Railroad station, which also functions as a bus hub.
The A bus runs from the Railroad Station to MidState Hospital then to Westfield Meriden on the south side of Dick's Sporting Goods Store, and then down Lewis Avenue and to the station.
The B bus makes first a loop to Main Street, South Meriden, then returns up Cook Avenue to the station, followed by a loop up Pratt Street, near Yale Acres, up Broad then across to North Colony and back to the station.
The C Bus makes a loop out West Main past Hubbard Park to Westerly Terrace then back, followed by a loop up East Main and Liberty Streets to Paddock Avenue, Research Parkway to East Main again, and then back to the station.
For schedules and maps, go to the state's CT Transit site and type in the word "Meriden".