Office of the Mayor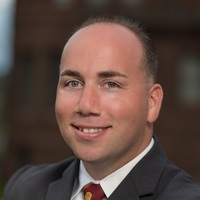 Kevin Scarpati is a lifelong resident of Meriden and proud product of the Meriden Public School system. He is the Sales and Marketing Manager for Thompson Chocolate, a chocolate manufacturing company founded in Meriden in 1879. Kevin takes great pride in the Meriden community and enjoys being involved with many local agencies. He is the Co-Chair of the Meriden School Readiness Council, corporator for MidState Medical Center, board member for Castle Craig Players, and member of the Knights of Columbus. Kevin also enjoys working and volunteering for the youth of our community in various capacities.
In 2009, Kevin was elected to the Meriden Board of Education, where he was instrumental in the assisting with implementation of full-day kindergarten, extended day schools, additional teacher planning time, and building 21st century high schools at Platt and Maloney. Wanting to become more influential on a greater number of issues affecting the city and its future, Kevin sought a seat on the City Council and was elected in 2011. During his four-year term, he served as a member of the Public Works/Parks & Recreation committee and Chairman of the Public Safety committee.

When Kevin is not working at the at Thompson Chocolate or in City Hall, he enjoys playing a round of golf at Hunter's Memorial Golf Course or singing his favorite Frank Sinatra classics at the Meriden Senior Center.

Kevin took the oath of office on December 7, 2015, as Meriden's 50th Mayor. He is honored to have earned this opportunity to serve as your mayor. With every decision, Kevin continues to put people above politics. He is looking forward to working with his colleagues on the City Council, staff at City Hall, and the rest of the Meriden community to move our city ahead. Kevin wants to ensure the city is moving in the right direction, making Meriden the best that it can be!
Meriden Residents Communications Preferences Survey
Here in Meriden, the City values communication with our residents.
We've created a very short, confidential survey to help us improve the way we connect with residents online, and we would appreciate your participation.