Traffic & Fire Alarm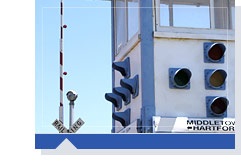 The Traffic and Fire Alarm Division is responsible for the maintenance of all City traffic signals, signs (stop, yield, street name signs, etc.) and pavement markings. It is also responsible for fire alarms and the streetlights located downtown and on Main St. in South Meriden.
The Traffic and Fire Alarm Division is guided by state statutes and the City Council regarding the installation of traffic signals and signs. It conducts a regular maintenance program for existing traffic signals and signs and conducts traffic signal studies for the installation of new traffic signals.
The Division maintains 60 traffic signals and 240 fire alarms.
For more information on Traffic, try our FAQ page located here.