Market Vendors
Farmers
Beckett Farms, LLC

The Beckett family started farming in Glastonbury in 1973, when Chip's father bought the Old Cider Mill to keep it from being developed into condominiums after the original condo sale fell through. Chip worked during off times in college and vet school until 1982, and returned to Glastonbury in 1983 to start his own practice and help out with the farm. In 1985, he bought the farm next door to build the veterinary clinic, Beckett and Associates, and adds the acreage to the Cider Mill property. Originally, we sold most things to the Cider Mill, along with wholesalers in Hartford. We have gradually sold to more stands and added farmer's markets two years ago, when his daughter, Leah, was old enough to drive to the markets. The CSA is the next evolution for our farm, to let people see and share what we do with our productive land and good weather.

Gotta's Farm

They are the proud grower's of quality plants, fruits, and vegetables, and fun ornamentals since 1898. Gotta's Farm and Cider Mill is a 4th generation farm established in 1898. They now have two seasonal retail locations -- Gotta's Farm on Rte 17 and the QP Market on Rte 66, both in Portland, CT. They are the proud growers of quality plants, fruits, vegetables and fun ornamentals, and they offer strawberries, peaches, apples and pears that you can pick yourself when they are in season. Gotta's Farm maintains a farmstand bakery with fabulous pies, breads, and cookies, and they participate in three regional Farmers' Markets. Gotta's Farm is now open for our 112th Season. All our annual flowering and vegetable plants are grown here from the best hybrid seed available. Come by and pick some of their delicious, fresh strawberries! Their fields are located on Main St. in Portland, Connecticut. Picking hours are from 8am-8 pm.
http://www.gottasfarm.com

Barbecho's Harvest


Salvador has been farming for most of his life, having grown up in an agrarian society. His wife Jardy and he moved to Hartford from Cuba. You will find his selection of peppers to be very extensive along with the rest of his produce. He also takes requests!
https://www.knoxhartford.org/
Trifecta Ecosystems



http://trifectaecosystems.com/

East Willow Farm



https://www.facebook.com/eastwillowfarm
J C Farm & Greenhouses



https://www.facebook.com/JCFarmdurhamct/
7 Falls Mushroom Farm



https://www.facebook.com/7fallsmushroomfarm/

Specialty Food Vendors
ARC Eatery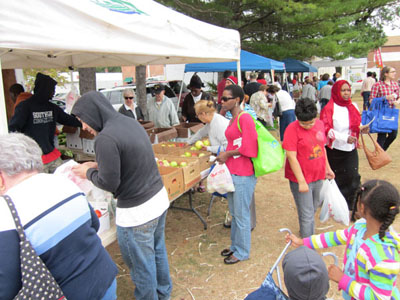 Breakfast foods, snacks
Sanremo Bakery
Fresh baked bread
Opal's Kitchen
Seasoned sauces
Onsite Food Preparation

My City Kitchen
Cooking demonstrations

School Lunch Program
Distribution of free school lunches
Mi Puebla
Mexican breakfast food
Non-Food Vendors
Paper Beads
Paper bead jewelry, scarfs, flowers

Dribble Babies
Children's clothing
Dukureh's Imports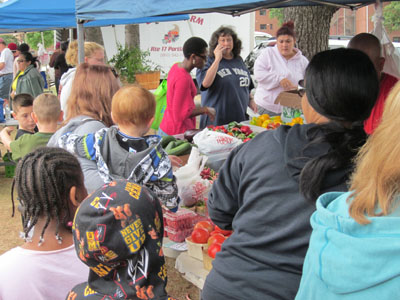 Jewelry, baskets,etc.
HFO Connections
Crafts and Jewelry
Pink Zebra
Candles and fragrances
Simply Natural Stuff
Herbal gels and ointments, clothing, baby products
Stone Tree
Jewelry
Nurseries
Casertano's
Fresh flowers and plants
Information Booths
MidState Medical Center
Health information
SNAP-ed
Preschool SNAP education
UConn Extension
Cooking demonstrations
WIC Office
Nutrition information
Rocky Corner Cohousing
Cohousing information
Community Health Network
Husky Health Program

Entertainment
Live Music Weekly
Provided by Concerts With Causes
D J Benitez
Disc Jockey music for special events