About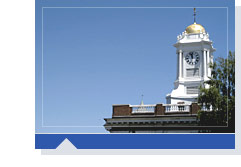 Meriden is located at the Crossroads of Connecticut, being bisected by two of the State's major freeways - Interstate Highways 91 and 691, major north/south and east/west arterials. Meriden is situated midway between the cities of New Haven and Hartford, located about 20 miles to the north and south, respectively. Train service is available from the State St. station. Meriden is located about one hour from major tourist and recreation areas, such as Sturbridge Yankee Village to the north and Mystic Seaport to the southeast. The City is located within 25 miles of several world-class educational institutions including Yale University, Wesleyan University, Trinity College, Rensselaer Polytechnic Institute (at Hartford), the University of New Haven, the University of Hartford, Central Connecticut State University (CCSU), Southern Connecticut State College, Albertus Magnus College, and St. Joseph College.
Hubbard Park is the largest municipal park in all of New England. Listed on the National Register of Historic Places, Hubbard Park consists of 1,800 acres and was designed by the famed architect Frederick Law Olmsted. Meriden is traversed by one of the State's major rivers, the Quinnipiac River, and is located only a few miles to the west of the state's largest waterway, the Connecticut River. Meriden is the showcase for one of the finest Traprock Ridges in all of New England. The Ridges frame the City, from Mount Lamentation along the easterly boundary to West Peak along the westerly boundary. These mountain ridges were recently protected by the City Council for future generations to enjoy.
Meriden is the home of Hunter Golf Course, one of the finest public golf courses in New England. The Hunter Golf Club offers an excellent test of golf, with great views of surrounding Traprock Ridges and Castle Craig in Meriden's Hubbard Park, which can be seen while playing the fifth hole. It was recently named the number seven public golf course in the state by Pub Links magazine, and has been named a top ten course by the Connecticut Magazine.
We invite inquiries from employers of all size wishing to locate or relocate to one of the finest areas of Connecticut, in the heart of New England, located about two hours from the metropolitan cities of New York and Boston. Meriden has a state-approved Enterprise Zone, offering both state and city economic development incentives. Recent companies locating to this area include Aperture Optical Sciences, Mirion Technologies, Turbo America and Logan Steel. We have a growing cluster of biotech companies located in and around Research Parkway, one of the City's newest industrial areas including Protein Sciences. A full-service medical center, MidState Medical Center, offers world class medical care to the residents of central Connecticut. The Emergency Department capacity will double from 26 to 52 treatment spaces following a major expansion, with an in-patient bed count of 156.
Meriden is also a major retail center with its newly-rehabilitated downtown and mall that recently expanded to over one-million square feet featuring major retailers - Macy's, Sears, Boscov's, Dick's Sporting Goods and over 150 specialty shops and restaurants. Numerous efforts are underway to redevelop our central business district and bring "Silver City" pride back to downtown Meriden – recent completion of the Meriden Green created a beautiful open space while resolving historic flooding issues, repurposing underutilized brownfield sites, revitalizing the rail station area into a modern transportation center, and providing links to the regional trail system. With thriving cultural and civic organizations that are important parts of our community, Meriden is a place your family or business will be proud to call home.