Neighborhood Preservation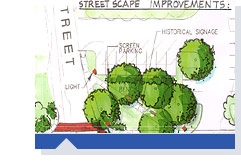 The Neighborhood Preservation Program was initiated in 1977 as an integral part of the City's revitalization strategy. The program provides a variety of loans to qualified owners for housing rehabilitation. Interested property owners may be eligible if their residential structures are located within the designated strategy areas and sub-areas.
Programs administered through this Division include the Neighborhood Preservation Loan Program, and the C.I.D.E.W.A.L.K. Program.
The goals of the program are:
The recovery of inner-city neighborhoods through rehabilitation.
Bring homes in the neighborhood up to housing, building, and fire safety code standards.
Increase the stability and attractiveness of older residential neighborhoods.
Enhance the quality of life.
The primary features of the program include:
Home improvement loans
Financial and technical assistance
Code compliance inspections.
Loan Application Forms Tenant Verification Forms Employment / Social Security Income Verification Forms Lead Paint Notifications Programs, and Guideline Booklets can be obtained by contacting our office.