CO-COLLECTION PROGRAM FOR FOOD SCRAPS AND TRASH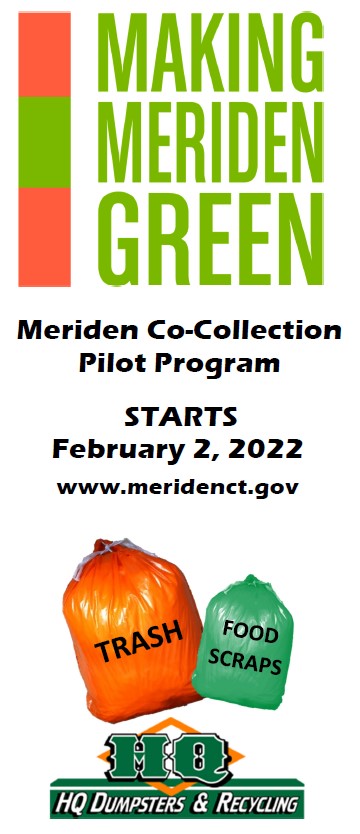 HQ Dumpsters is working with City of Meriden and DEEP on this exciting opportunity to address the upcoming trash crisis and keep solid waste collection affordable by turning your food waste into sustainable renewable energy at no cost to you.

Food Waste is over 20% of household trash, so removing it can significantly decrease the trash going into landfills or burn facilities.


The Co-Collection Pilot Program will begin on your collection day the week of February 2nd and continue through the end of May. You will receive a 4 month supply of orange trash bags and green food scrap bags. These bags will be delivered by Sustainable Meriden students by the end of January.
How Does it work?
At home, residents will separate food scraps from their trash and place in the green bags. Non-recyclable trash will go in the orange bags. Each week, residents will place full green and orange bags in the trash cart for curbside trash pick up.
Will the Meriden Co-Collection Pilot Program change what containers I use for trash?
No. This program will not require you to change the containers you use for your trash bags. You can place both the orange trash bags and green food scraps bags together inside your trash cart. Please ensure the bags are tied for disposal.
What size are the bags?
The orange trash bags are 15-gallons and will fit a standard kitchen trash can. You will receive enough bags to use 2 trash bags per week for the length of the pilot program. The green food scrap bags are 8-gallons and you will be provided with enough bags to use one per week. We recommend lining a 5-gallon bucket with the green bag. You may already have a 5-gallon bucket at home that you could use. To request a 5-gallon bucket, please contact Meriden DPW.
What if I need additional bags?
Residents are encouraged to be sure to recycle all they can to stay within the allotted trash bags. Additional trash and food scrap bags will be provided upon request, please email publicworks@meridenct.gov
How do I recycle?
There are no changes to the recycling program. Please continue to place your empty bottles & cans, paper & cardboard in your recycling cart.
I still have questions. Where can I get more information?
Please contact Meriden DPW at 203-630-4018 or publicworks@meridenct.gov