EXTENDED TRANSFER STATION HOURS
AND LEAF COLLECTION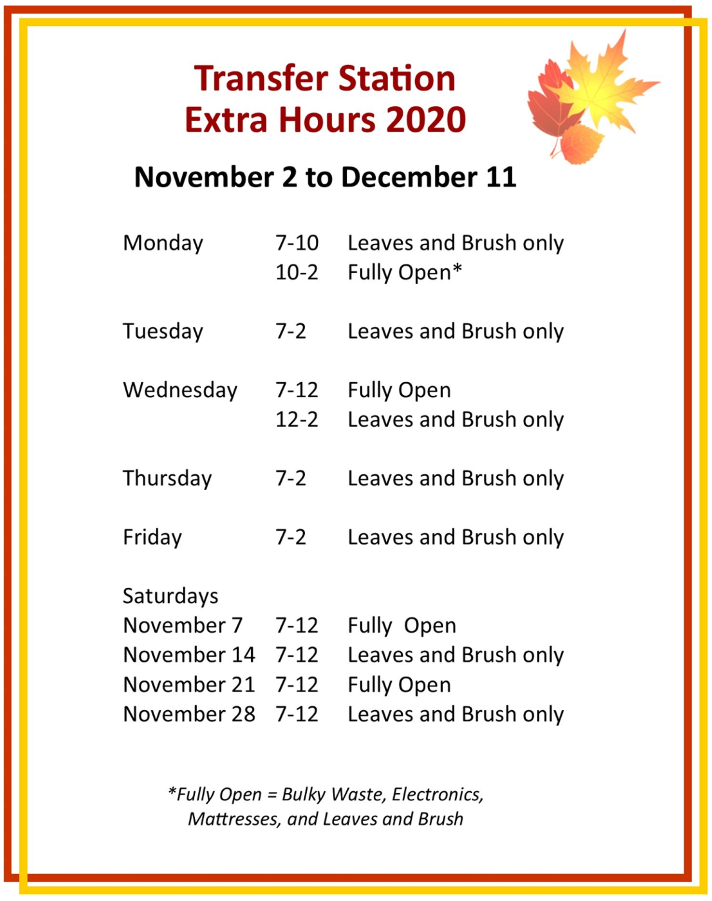 The Transfer Station will be open daily starting November 2 to December 11, 2020 for leaves and brush only. Additional hours will be Monday - Friday between 7:00 am and 2:00 pm, as well as Saturday, November 14 and Saturday, November 28. Only leaves and brush will be accepted outside of normal Transfer Station hours.
The curbside collection of leaves is scheduled to begin the second week of November and lasting until mid-December, unless significant snow occurs before this date.
* Residents do not have to make appointments
* Leaf collection typically occurs Monday, Tuesday, and Wednesday
* Only leaves in biodegradable bags weighing less than 50 pounds will be collected
* Leaves in plastic bags will not be collected
* The use of duct tape is not permitted
* Woody brush is not collected. This may be delivered to the Transfer Station free of charge
* Keep leaves, branches, rocks, and other miscellaneous debris out of the street
* Do not place leaves, trash, or other debris into catch basins, storm inlets, or watercourses
* The City does not collect leaves in the spring
Please contact Engineering at 203-630-4018 if you have any questions.
---